Charlotte Golf Courses - North Carolina
| Charlotte Golf Courses - Public | City | Phone | Info | $ Deals | Site |
| --- | --- | --- | --- | --- | --- |
| Apple Creek Exec | Dallas, NC | 704-922-4440 | 18 | | |
| Ballantyne Hotel & Lodge | Charlotte, NC | 704-341-4653 | | | Y |
| Birkdale GC | Huntersville, NC | 704-895-8038 | 18 | | |
| Cedar Rock CC | Lenoir, NC | 828-758-4451 | | | Y |
| Charles T Myers | Charlotte, NC | 704-536-1692 | 18 | TeeTimes | Y |
| Charlotte G Links | Charlotte, NC | | | closed | |
| Charlotte National | Indian Trail, NC | 704-882-8282 | 18 | | |
| Cramer Mountain | Cramerton, NC | | | closed | |
| Crowders Mountain | CrowdersMtn, NC | 704-739-7681 | 18 | 4for3 | |
| Dr. Charles L Sifford Golf Course | Charlotte, NC | 704-333-3985 | 9 | TeeTimes | Y |
| The Divide | Mint Hill, NC | 704-882-8088 | | | |
| Eagle Chase | Marshville, NC | 704-385-9000 | 18 | 4for3 | Y |
| Edgewater | Lancaster, SC | 803-283-9800 | 18 | | Y |
| Emerald Lake | Mathews, NC | 704-882-7888 | 18 | | |
| Firethorne | Marvin, NC | 704-843-3111 | 18 | | Y |
| Larkin GC | Statesville, NC | 704-872-9990 | | | |
| Gastonia Municipal | Gastonia, NC | 704-866-6945 | | | Y |
| Glen Oaks | Maiden, NC | 704-428-4251 | | | |
| Green Meadows | Mount Holly, NC | 704-827-9264 | 18 | 4for3 | Y |
| Green Oaks | Concord, NC | 704-786-4412 | | | |
| Hampton Heights | Hickory, NC | 828-328-5010 | 18 | 4for3 | |
| Harry L Jones Sr Golf Course | Charlotte, NC | 704-357-3373 | 18 | TeeTimes | Y |
| HighLand Creek | Charlotte, NC | 704-875-9000 | | | |
| Larkhaven | Charlotte, NC | 704-545-4653 | | | Y |
| Lenoir GC | Lenoir, NC | 828-754-5093 | 18 | 4for 3 | Y |
| Lincoln CC | Lincolnton, NC | 704-735-1382 | 18 | 4for 3 | Y |
| Monroe CC | Monroe, NC | 704-282-4661 | | | |
| Moorseville GC | Mooresville, NC | 704-663-2539 | | | |
| Oak Hills | Charlotte, NC | 704-394-2834 | 18 | | |
| Olde Sycamore | Mint Hill, NC | 704-573-1000 | 18 | Specials | Y |
| Pebble Creek Exec | Indian Trail, NC | 704-821-7276 | | | |
| Pinetuck | Rock Hill, SC | 803-327-1141 | 18 | 4for3 | Y |
| Red Bridge | Locust, NC | 800-535-9190 | 18 | | Y |
| Regent Park | Fort Mill, SC | | 9 | Closed | |
| Republic Golf Club | Great Falls, SC | 803-482-3300 | 9 | | Y |
| Rocky River | Concord, NC | 704-455-1200 | 18 | Specials | Y |
| Skybrook | Huntersville, NC | 704-948-6611 | 18 | | |
| Spring Lake | York, SC | 803-684-4898 | 18 | 4for3 | Y |
| Stonebridge | MineralSpgs,NC | 704-283-8998 | 18 | | Y |
| Sunset Hills | Charlotte, NC | 704-399-0980 | 18 | TeeTimes | Y |
| Tega Cay | Tega Cay, SC | 803-548-2918 | 27 | | Y |
| Tillery Tradition CC | Mt.Gilead, NC | 877-472-7212 | | | Y |
| Tot Hill Farm | Ashboro, NC | 888-868-4455 | 18 | | Y |
| The Tradition | Charlotte, NC | 704-549-9400 | | | |
| Verdict Ridge | Denver, NC | 704-489-1206 | 18 | | Y |
| Waterford | Rock Hill, SC | 803-324-0300 | | | |
| Warrior | China Grove | 704-856-0871 | 18 | | |
| Westport | Denver, NC | 704-489-8088 | | | Y |
| White Plains CC | Pageland, SC | 843-672-7200 | 18 | 4for3 | |
Charlotte Golf Course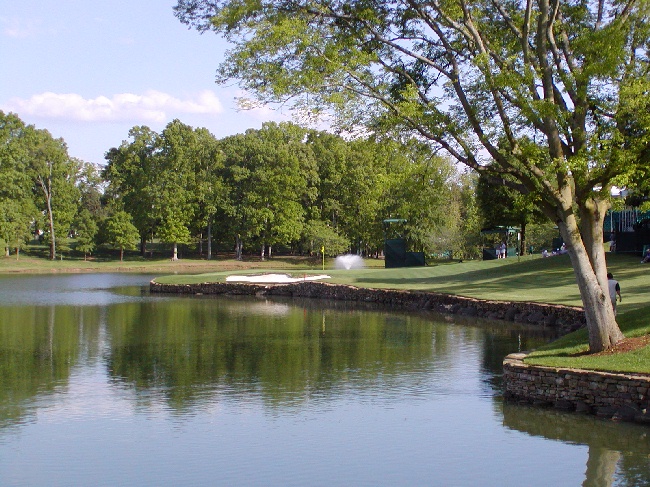 Above is the 17th par three at Quail Hollow Golf Club, Charlotte, NC, site of the famous Wells Fargo Golf Championship.
Charlotte Golf has four seasons mild enough for year around golf, and some of the finest golf courses in North Carolina. Here there are 53 public challenging, championship Charlotte golf courses designed by architects such as Donald Ross, Ron Garl, Arnold Palmer, and Jack Nicholas. Charlotte golf courses have been drawing discriminating golfers to Charlotte Golf for years. Here is a list of private Charlotte golf clubs.
Charlotte golf travel plans can be researched on this site by checking out the sites listed above for each course and using any available 4 for 3 Golf deals listed above. Set your Charlotte golf lodging requirements by using the hotel finder on the side bar for the best rates. Or you may enter your golf vacation requirements into the Charlotte Golf Package. If you want to stay in downtown Charlotte you should consider Downtown Charlotte Hotels as your reliable guide. Drive here using Interstate 77 or I85. Or fly directly into the Charlotte International Airport (CLT).